New community ambulance station for Kenilworth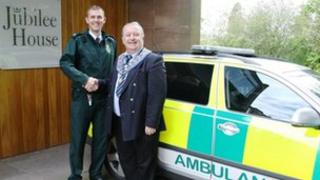 A Warwickshire town has been given the go-ahead for a new community ambulance station.
The community response post will be based at Jubilee House in Kenilworth, and will see advanced paramedics responding 24-hours a day.
Five community paramedics, on rotation, will be in addition to the previous level of ambulance cover in the town.
It follows a nine-month trial where a rapid response vehicle was based in the town.
Additional assessment skills
The mayor of Kenilworth, councillor Dave Shilton, said: "It will be a huge benefit to all residents in Kenilworth and the surrounding area and we hope to see them up and running as soon as the alterations to the room have taken place and it is made fit for purpose."
Martyn Scott, area manager for West Midlands Ambulance Service, said: "By having more bases from which to respond to medical emergencies, we can get to patients in need far more quickly.
"The community paramedics are able to bring more A&E skills to the patient, instead of having to take patients to A&E."