Coventry Cathedral unveils statue to WWII civilian dead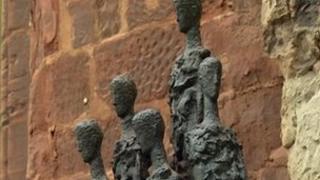 A statue from Germany in memory of civilians killed in World War II has been unveiled at Coventry Cathedral.
The statue stands in the ruins of the old cathedral that was destroyed in a bombing raid in November 1940.
A delegation and choir from the bombed German city of Dresden, led by the Bishop of Saxony, took part in the ceremony.
The statue, called Choir of Survivors, is the work of the German artist Helmut Heinze.
The Bishop of Coventry The Right Reverend Christopher Cocksworth said it was a "very significant sculpture".
He said: "It's a symbol of hope; of new life rising out of destruction.
"It's a gift from the Frauenkirche in Dresden, a wonderful church that was destroyed by allied bombing.
"An amazing story of reconciliation has happened over the years between Coventry and Dresden, particularly between Coventry Cathedral and the Frauenkirche."
The ceremony was part of the new cathedral's 50th anniversary celebrations.