Coventry MP Geoffrey Robinson says city is 'desolate'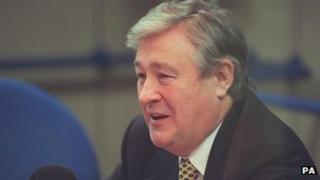 Coventry MP Geoffrey Robinson has claimed the city centre is "derelict" and has urged the government to give more support to regeneration projects.
The Labour MP for Coventry North West was speaking in a Commons debate on the effects of the Budget on the city.
His fellow city MP Jim Cunningham said £45m of council spending cuts would damage the local economy further.
But Treasury Minister Chloe Smith said the government was introducing measures to boost growth.
Speaking in the debate on Monday evening, she said a recent government grant reflected the "higher level of need" in the city.
"I refer any listeners here tonight to the £4 million grant in 2012/13 which will be £493 per person, compared to a far lower average per person across England," she said.
'Knock-on impact'
But Mr Robinson said the city centre had little appeal: "The trouble is the inner city centre has become a derelict part of Coventry.
"People don't eat there, it isn't an area for people to congregate, spend time.
"It's desolate and leads to all those activities we don't want to see in any of our city centres."
Mr Robinson added that current plans to revamp the city centre were "a very small start" and that improving it needed to be made "a top priority".
Mr Cunningham, MP for Coventry South, said the cuts to the council's budget over the next two or three years would have a "knock-on impact" on local businesses and employment.
In February, the council said it planned to cut 40 management jobs within the next 12 months help reduce its budget by £17 million.