London 2012: Shakespeare event for toddlers in Stratford-upon-Avon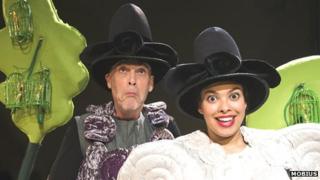 A production introducing Shakespeare to children aged from two to four is being staged in Stratford-upon-Avon.
In a Pickle, at the Swan Room above the Swan Theatre, has been based on the second half of The Winter's Tale.
Organisers said children attending would be involved in the "interactive theatre piece" and could play sheep.
The production started on Wednesday and was created for the World Shakespeare Festival, which is part of the London 2012 Festival .
The Royal Shakespeare Company (RSC) said it was the first time it had made work "for such a young audience".
Theatre company Oily Cart, which is staging it along with the RSC, said the play had been edited "from a child's point of view".
The production includes music, and smells are released in the Swan Room.
Oily Cart artistic director Tim Webb said: "This is not another of those shows you look at and listen to. It's one you can touch, smell and taste.
"Yes, it's a challenge but one we're revelling in."
The production will run until 17 June at the Swan Room before going on tour.