Coventry Cathedral: Visits from famous musicians remembered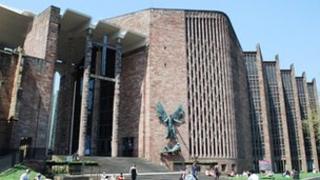 A place of worship and a symbol of peace and reconciliation, Coventry Cathedral has had a variety of roles over its 50 year history, including one of a concert venue.
Among those to have performed at the cathedral was jazz composer and pianist Duke Ellington, who brought along his band in February 1966.
Toby Wood travelled with his father from Peterborough without a ticket in a bid to catch the band rehearsing ahead of the show.
Mr Wood said: "We sat towards the back because my dad was scared stiff that someone would come and say 'you can't listen to this, you've got to leave'.
"After a couple of tunes we moved forward and forward and we ended up on the fourth row sitting there as quietly as we could trying not to be noticed."
John Lennon
In October 1975, Tangerine Dream accepted an invitation to play in the cathedral just weeks after being banned from performing in any Roman Catholic church because too many fans had turned up to a previous gig.
Edgar Froese, from the German electronic group, said he was not sure how well the band would be received in Coventry because of the devastation caused to the city during World War II.
Mr Froese said: "I left my hotel in the morning of the concert and went for a walk around town. I passed a news stand and I could read a headline that said '35 years ago they came with bombs - today they're coming with synthesisers'.
"During the concert there was nothing but a very warm welcome and an incredibly good atmosphere."
Arguably, one of the most famous musicians to grace the cathedral was John Lennon, although he did not perform when he visited in 1968.
Instead he planted two acorns with Yoko Ono that represented East and West.
They were later stolen, but in 2005 Yoko returned to plant two trees in their place.
To celebrate the occasion, BBC Coventry & Warwickshire has recorded 50 stories about the cathedral from those who have played a part in its history.
The 50 Stories for 50 Years have been shared on the radio and on the station's on the station's Facebook and Audioboo pages.