Hair band injury dog 'days from death'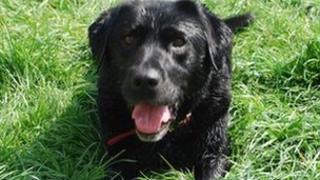 A dog that had an elastic hair band put around its neck could have been "days from death", the RSPCA has said.
Inspector Nicky Foster said vets who treated black Labrador Pip were "shocked and upset" when they saw her one-inch (2.5cm) deep neck wound.
The dog's owner Wenda Allen, of Buckley Road, Leamington Spa, Warwickshire, was banned from keeping animals for life, on Wednesday.
Leamington magistrates also gave Allen an 18-month community order.
'It was horrific'
She was ordered to pay £250 costs.
Ms Foster welcomed the outcome, especially the ban and a deprivation order, which mean the charity can now rehome the dog.
"When I went on the first day and saw her it was horrific - I've never seen anything like it," said Ms Foster.
"We see tethering injuries on dogs from collars and things that are too tight but for something like this - it was an elasticated hair band that has clearly deliberately been put on this dog's neck, for whatever reason we don't know, and that's caused these injuries.
"And the vet stated that she could have been days from death."
Ms Foster said six months on, the dog was recovering at the RSPCA centre in Coventry.
"We want to get her the forever home that she really does deserve," she added.