Jailed man to get damages for Coventry Crown Court error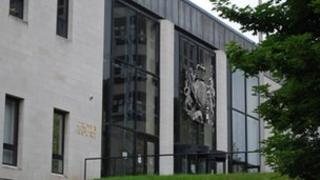 Failures in the courts service led to a man awaiting trial on robbery charges being detained for too long, senior judges have ruled.
The High Court heard a lack of resources at Coventry Crown Court led to delays in the trial of Clark McAuley, who was charged last July.
He was held on remand for seven months, more than a month over the custody limit. Judges ruled it "unlawful".
HM Courts and Tribunals Service said it had reviewed its guidance to courts.
McAuley, who went on to admit conspiracy to rob and has been jailed for four-and-a-half years, is due to receive damages at a separate hearing.
Last July, McAuley was charged with conspiracy to commit robbery, dangerous driving and handling stolen goods.
He was due to stand trial in December but it was rescheduled for February due a lack of availability of court rooms and judges.
The court then extended his custody time limit, which sets out the maximum period allowed before a trial is brought.
McAuley's lawyers applied for a judicial review and the decision to extend the deadline was quashed at the High Court, it has emerged.
In their ruling, President of the Queen's Bench Sir John Thomas and Mr Justice Silber ruled: "There had been a systemic failure in Her Majesty's Courts and Tribunals Service (HMCTS) by failing to provide sufficient funds to enable defendants in custody to be tried within the maximum period allowed by law."
They said their ruling, published in March, depended in part on the established principle that "justice delayed is justice denied".
The judges said "unlawful instructions" had been given at Coventry Crown Court "as a result of failures of management".
Routine cases should be heard within custody time limits except in "highly exceptional circumstances", they said.
Custody time limits vary, depending on the offence or combination of offences a defendant is charged with.
HMCTS, which is part of the Ministry of Justice, accepted that the custody time limit should not have been extended in the case of McAuley.
A spokesman said the service worked with the judiciary to ensure court cases were listed efficiently.
He said: "In light of this judgment we have, in partnership with the judiciary, formally reviewed and revised our listing guidance to ensure that cases are reviewed, prioritised, and listed having fully considered any implications in respect of custody time limits."
Jodie Blackstock, a director at human rights organisation Justice, said budget cuts affected all aspects of the justice system.
She added: "It is ironic that for the sake of not exceeding the budget by six court sitting days, public spending was incurred in housing a remand prisoner for two additional months, conducting a full judicial review and paying compensation for unlawful detention.
"It should be hoped that with the introduction of further cuts no other public authority considers the proper administration of justice to be expendable."