Jury considers Atherstone warehouse deaths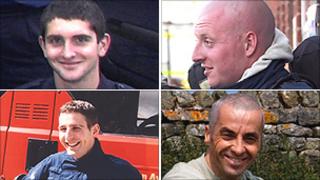 The jury trying two fire managers accused of manslaughter over the deaths of four colleagues in a warehouse blaze, is considering its verdict.
Adrian Ashley, 45, and Timothy Woodward, 51, deny four counts of manslaughter by gross negligence.
They are on trial at Stafford Crown Court over the fire in Atherstone-on-Stour, Warwickshire, in November, 2007.
Firefighters Ian Reid, John Averis, Darren Yates Badley and Ashley Stephens died tackling the blaze.
Mr Justice MacDuff reminded the jury the Crown's case was that Mr Ashley should not have committed the four firefighters into the fire and that Mr Woodward should have withdrawn the men when he took command of the fire on the night.