Bishop's Castle Hospital tea lady retires aged 100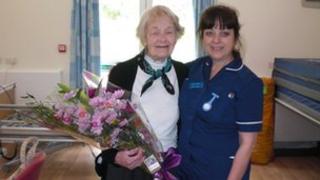 A tea lady at a community hospital in Shropshire has retired at the age of 100.
Mary Wolfe has been providing teas at Bishop's Castle Community Hospital for 15 years.
Mrs Wolfe has decided to call time on her volunteering after moving into supported accommodation in the town.
She said: "I have thoroughly enjoyed my time volunteering at the hospital and will now be able to give more time supporting other causes close to my heart."
Sandra Bradbury, ward sister at the hospital, said: "We are able to return the favour and offer her a well-deserved cup of tea.
"People such as Mary are much valued as not only do they provide a cuppa but they also stop on their rounds to have a chat with patients, helping to really improve their stay in hospital.
"We were very sorry to see Mary go but would like to thank her for all her hard work, especially during the development work at the hospital."
The 16-bed community hospital reopened in 2011 after a two-year revamp costing £1.3m.