London 2012: Olympic hopeful Matt Roberts calls on Kenilworth to fund dream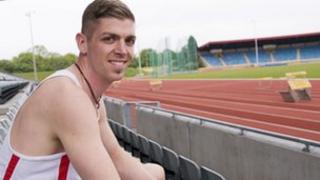 An Olympic hopeful from Warwickshire is turning to his hometown to help him realise his dream of participating at the London 2012 Games.
A funeral directors is campaigning for the residents of Kenilworth to help high jumper Matt Roberts train full-time ahead of the Olympic selection trials.
Mr Roberts is set to compete in the trials held on 24 June at the Alexander Stadium in Birmingham, which decides who will make Great Britain's team of three high jumpers.
He lost part of his vital funding earlier this year and eleven months ago suffered a career-threatening injury, resulting in a disc in his broken neck being replaced.
The campaign, 1000/1, hopes to encourage 1,000 Kenilworth people to donate £1, so Mr Roberts can train full-time ahead of the trials.
Steve Gerarty from Henry Ison & Sons funeral directors said: "I attended a business breakfast and a lady called Teresa Kendall appealed to the guests with his story.
"I thought, what a wonderful opportunity to support the local community and more importantly, Matt, in his endeavours."
It is believed that Mr Roberts is the only high jumper in the world to have undergone such surgery, and is now able to compete sooner than he thought.
Undergone surgery
A giant cardboard cut-out of the athlete will act as the totaliser in the Kenilworth branch of the funeral directors.
Mr Roberts said: "It's only 2cm for me to go to meet the qualification standard. This is my passion and something I've been doing a long time.
"If we can raise £1,000, this will ensure I can train as well as possible. If I can train like a professional athlete, it means I can perform like a professional athlete."
Following an open morning where visitors could meet Mr Roberts, they already raised around £400.
Mr Gerarty added: "Matt's an inspirational young man, in particular after his injury.
"We want to see him at the Olympics, and how wonderful would it be for the people of Kenilworth if Matt was able to represent them."
The campaign continues throughout June.