Digger used in armed bank raid in Atherstone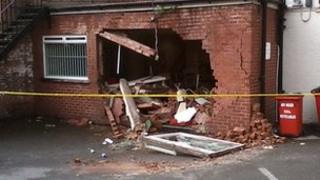 Armed raiders have used an an earth-moving digger to break into the back of an HSBC bank in Warwickshire.
Up to four people broke into the bank in Long Street, Atherstone, at about 12:45 BST on Monday using the digger, believed to have been stolen on Sunday.
The raiders all wore balaclavas and at least one had a handgun, police said.
After the raid, the robbers stopped a Vauxhall Corsa car and forced a woman and her child from the vehicle before driving it towards Polesworth.
Before stopping the Corsa, they made their initial escape along Radcliffe Street in a blue BMW which had been reported stolen from Birmingham on Sunday.
"No members of staff at the bank were injured during the armed robbery and it is believed that only a small amount of money was taken," a police spokeswoman said.
The Corsa was found abandoned in Spon Lane shortly before 13:30 BST.
Warwickshire Police have appealed to hear from anyone who saw anything suspicious in the area to contact officers.