Coventry city centre roads become part of a 20mph zone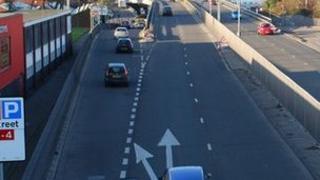 The city centre of Coventry has been made a 20mph zone.
The new limit covers the area within the ring road and is marked by large gateway signs at all 13 entry points.
It also includes widened pavements, narrowed carriageways and 15 new zebra crossings in a bid to make a "pleasant environment".
Coventry City Council says the zone is the first of its kind in the UK, controlling speed by changing the environment rather than by road humps.
The city centre roads previously varied in speed limits, with the maximum being 30mph.
'Self policing'
The changes also follow the introducion of "shared space" junctions - four-way junctions that do not have traffic lights or kerbs, creating an area where neither pedestrians nor vehicles have right of way.
Councillor Lindsley Harvard, cabinet member for city services, said: "We've done checks on the [shared space location] and we've found that the average speed has reduced from 24mph to 18mph.
"We are working hard to create a city centre that is more more pedestrian-friendly.
"By marking the zone as people enter the city centre, we will be able to remove all the unnecessary signs and road markings, making the whole city centre look better.
"We wanted to make the whole area self-policing. I think speed humps can be quite distressing for people with back problems, and emergency vehicles."
It is part of the wider improvements to transform areas of the city centre, including Broadgate, the link between the railway station and Bull Yard, and the area outside Holy Trinity Church.