Genet Kidane case: Police officer failed murdered woman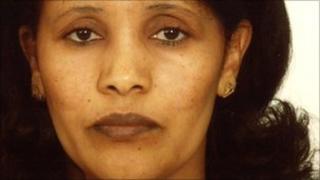 A police officer did not carry out a proper inquiry into the harassment of a Coventry woman but the failure did not lead to her death, an inquiry found.
Genet Kidane, 41, died after she was pushed off a bridge in the city by Yonas Beraki in January last year.
Ms Kidane had made a number of reports of harassment against Beraki, who was later jailed for her murder.
The Independent Police Complaints Commission (IPCC) said the officer had a "case to answer for misconduct".
Ms Kidane and Beraki, who were originally from Eritrea, were seen arguing on the bridge before her body was found on 12 January 2011.
West Midlands Police had received reports of conduct by Beraki against Ms Kidane but, because he was deported twice, officers had been unable to trace him.
'Tragic case'
The IPCC said the officer who first interviewed Ms Kidane "did not carry out an effective or meaningful inquiry" into the initial report of harassment in July 2010, "but this failing had no ultimate bearing on her death several months later".
It added that "West Midlands Police has since decided he will be given management advice by a senior officer" and concluded that the officer "could have done more to pursue lines of enquiry".
The force's Assistant Chief Constable, Sharon Rowe, said: "This was a tragic case and our thoughts remain with Genet's family.
"It is clear from the IPCC's report that one of our police officers did not carry out an effective or meaningful inquiry into Genet Kidane's initial report of harassment in July 2010 and for that we are very sorry.
"We agree with the findings of the IPCC's investigation and the IPCC have accepted our course of action in relation to the officer.
"Again, we extend our condolences to all affected by Genet's death."