Rare butterflies 'thrive' in Warwickshire woods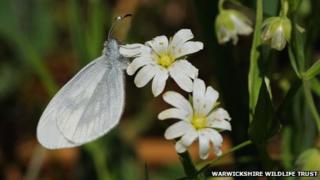 Rare butterflies are thriving at woodland nature reserves in Warwickshire.
Wood white, purple emperor, white admiral, white-letter hairstreak and silver-washed fritillary butterflies are among those whose numbers are growing at sites such as Ryton Woods and Wappenbury Woods.
A report by Butterfly Conservation in Warwickshire highlights that after 23 years of active management at Ryton Woods, the site contains "important breeding colonies" of the five rare woodland butterfly species.
Stephen Trotter, chief executive of Warwickshire Wildlife Trust, said: "Woodland management is all about getting the right balance between light and shade, it's a careful and skilled job which takes years to achieve."
Mr Trotter said that woodland needs to be actively managed and that "flora and fauna" can decline if nothing is done.
He said: "Traditional coppicing management has been restored thanks to the trust's work, especially the tireless work of our dedicated volunteers and naturalists who have created exactly the right conditions for the maximum number of species to thrive.
"There are five really rare woodland butterflies, that are on the brink, and have recovered really well and have started to establish in other areas of the county.
"The national trend for the species are in decline, even in Warwickshire, but for us it's going the other way - we're bucking the national trend."
Warwickshire Wildlife Trust said that the lack of active woodland coppice management has been "largely abandoned in most other woodlands".
Coppicing involves the rotational cutting of broad leaf trees that shade out areas of woodland, and then getting open areas where flowers and butterflies can thrive.
The trust also actively manages the pathways through the woodland and gaps in the trees.
It is also working with landowners in the Princethorpe area to look at ways of improving areas for wildlife by reinstating and planting hedgerows to re-connect existing woodlands and looking at sites for new woodland.