Burton Green HS2 film has its premiere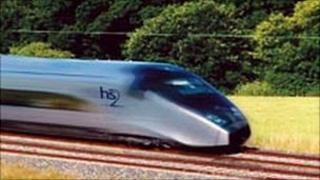 A film about the potential impact of HS2 on a Warwickshire village is to be shown to residents and invited guests.
Phase one of the £33bn high-speed rail link between London and Birmingham, will cut through Burton Green.
Parish council chair Archie Taylor said he hoped the film would highlight the case for a deep-bore tunnel.
The film will be shown at 19:30 BST in the village hall. Transport Secretary Justine Greening said HS2 was an "important project".
The 15-minute film will be shown to guests such as the Conservative MP for Kenilworth and Southam, Jeremy Wright, and the Mayor of Kenilworth, George Illingworth.
Mr Taylor, a director of Stop HS2, said: "HS2 will threaten our school's existence and destroy the greenway.
"At least 70 houses are 100m from the proposed line. This is about the life and death of our community.
"We intend to send DVDs to all MPs in an attempt to win political support."
Ms Greening has again given HS2 her backing following claims in the media last week that senior government figures were going cold on the idea of the project.
Ms Greening said: "We can't just hope that Britain's going to be great in the future - we've got to build it in the same way that the Victorians did.
"That's what we owe young people growing up in Britain today, a country that's got a railway network, an aviation sector and motorway network that's fit for them to be successful."
The line will first connect London to Birmingham, passing through rural parts of Buckinghamshire, Oxfordshire, Northamptonshire, Warwickshire and Staffordshire.
The second phase of the project will be extended to northern England.