London 2012: Concert for Coventry Cathedral 50 years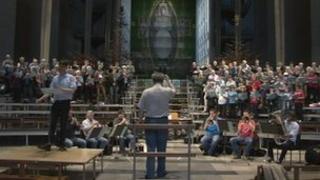 School children across Coventry are taking part in a performance to mark the cathedral's 50th anniversary.
The City of Birmingham Symphony Orchestra is performing Gloria, a choral piece written by James MacMillan, alongside the school children and the St Michael's Singers.
The cathedral was rebuilt after it was bombed during World War II.
As well as marking the anniversary, Gloria is one of many events taking place to mark the London 2012 Festival.
There will also be a performance of Benjamin Britten's St Nicholas.