'Lucky escape' for girl trapped under car in Leek Wootton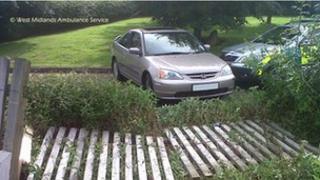 An eight-year-old girl has escaped with minor injuries after being found under a car that had gone over a pavement, through a fence and some bushes.
It is thought the car went backwards through the fence and somehow dragged the schoolgirl underneath, trapping her leg, paramedics said.
Emergency crews moved the car to treat her after the incident in the car park of All Saints Church Primary School in Leek Wootton, Warwickshire.
She suffered cuts and a leg burn.
'Very lucky'
West Midlands Ambulance Service said: "Thankfully, she had suffered remarkably minor injuries given the situation she was found in.
"She had a small head injury, a burn to her left thigh from being dragged, some minor abrasions to arms and legs, but no obvious fractures.
"She was given pain relief, was immobilised before being airlifted to University Hospital Coventry & Warwickshire.
"It certainly appears as though she has been very lucky to get away with such minor injuries."
The elderly driver of the car was uninjured.