Soldier refusal pub in Coventry to review uniform policy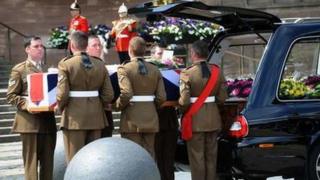 A bar which refused to serve soldiers due to attend a funeral because they were wearing uniform will review its policy, says Coventry City Council.
Browns Independent Bar would not serve pallbearers rehearsing for Cpl Michael Thacker's funeral on Monday.
Rachel Lancaster, chairwoman of the city's licensing committee, said owner Ken Brown said he would review the door policy and it was time to "move on".
More than 80,000 people backed a Facebook campaign opposing the refusal.
The campaign had called for the bar to be boycotted on Armed Forces Day on Saturday.
'Appalling comments'
Cpl David Allison, of The Royal Welsh, said the men had wanted tea or coffee to "calm our nerves" ahead of Cpl Thacker's funeral at the city's cathedral.
Cpl Thacker, 27, of Keresley, Coventry, died on 1 June after being shot while manning an observation post in Afghanistan.
Cpl Allison, a pallbearer who tried to get served after his two colleagues were refused because they were in Army uniforms, said he felt "absolute disgust" about the policy.
Ms Lancaster said she spoke to Mr Brown on Wednesday because of the "overwhelming reaction" to the incident.
"I have to say that he was absolutely flabbergasted by the response," she said.
"He doesn't access Facebook so had not realised that the reaction would be so strong and he was extremely apologetic.
"He gave a full apology yesterday and he's really sorry about the trouble he that he caused.
"And when he spoke to me he said he would review his door policy - and let's hope it's a thorough review of his door policy - and we can put this to bed and move on because we are focusing on an issue where it has a negative impact on the city."
Ms Lancaster said some comments left on Facebook about Mr Brown had been "appalling".
She added people should now concentrate on the "positive things" going on in Coventry this weekend, including the Armed Forces Day parade and Olympic torch's visit.