Shakespeare theatre ping pong games for torch relay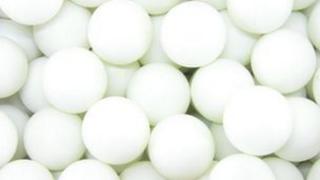 Twelve thousand ping pong balls left over from a Shakespeare play were used in an event to coincide with the Olympic torch relay in Warwickshire.
The Ping-Pong Games were held on Sunday at the Royal Shakespeare Theatre in Stratford-Upon-Avon.
The games included table tennis, ball and spoon races and bingo.
The Royal Shakespeare Company (RSC) said the balls were left over from a scene that was cut from a recent production of The Comedy of Errors.