Soldier refusal bar in Coventry closes for Armed Forces Day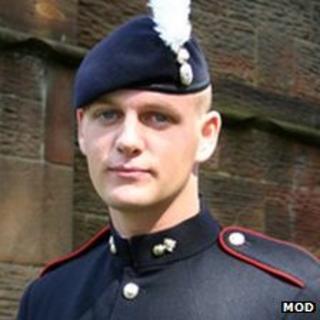 A Coventry bar which refused to serve soldiers dressed in uniform has closed for Armed Forces Day amid concerns over safety.
In a statement on its website Browns Independent Bar said it would close over the weekend claiming it had been "reliably informed" of a possible risk.
Military pallbearers rehearsing for the funeral of 27-year-old Cpl Michael Thacker on Monday were refused service.
Bar owner Ken Brown said it continued to offer its "unreserved apologies".
A special service and parade took place in the city on Saturday to mark Armed Forces Day.
Cpl Thacker, of Keresley, Coventry, died on 1 June after being shot while manning an observation post in Afghanistan.
The bar's website said: "We do not wish to cause any further distress to the family and friends of the late Corporal Michael Thacker and it is our heartfelt wish that Armed Forces Day should not be overshadowed by protest due to our ill judged actions."
Earlier this week Rachel Lancaster, chairwoman of the city council's licensing committee, said the owner had pledged to review its door policy.
Ms Lancaster said she spoke to the owner on Wednesday because of the "overwhelming reaction" to the incident.
"I have to say that he was absolutely flabbergasted by the response," she said.
"He doesn't access Facebook so had not realised that the reaction would be so strong and he was extremely apologetic."