Coventry Godiva Festival venue to be reviewed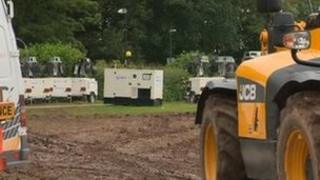 Coventry's Godiva Festival could be held away from the War Memorial Park after this year's event was cancelled due to flooding.
The annual free three-day event, due to be held last weekend, was cancelled at a loss of about £450,000 because of conditions in the park.
A spokesman for the authority said alternative venues would be looked at as part of a review.
There has been criticism that a contingency plan was not in place.
In a statement, the Labour-led council said: "The full cost of the Godiva Festival this year will be around £446,000.
Rain 'not surprising'
"Had it gone ahead we would have expected to make about £130,000 in concessions which would have helped offset the cost to around £316,000, which equates to about a pound for each Coventry resident.
"We would not have saved any money by cancelling it earlier in the week.
"If we'd had a dry Thursday we could have still gone ahead.
"We will of course review this year's Godiva - as we do every year - including looking at alternative venues."
Opposition leader, Conservative councillor Kevin Foster, agreed with the decision to call the event off but felt it should have been done earlier in the week.
He said the extensive car parks at the Ricoh Arena could have been used as an alternative venue.
He said: "Circumstances were exceptional this year although wet weather in England over the summer is probably not the biggest surprise there's ever been."