Jaguar collection at Gaydon's Heritage Motor Centre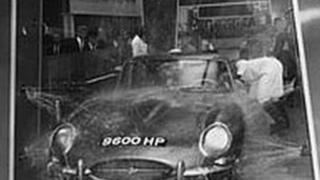 A collection of historic Jaguar cars has gone on display at a new home in Warwickshire.
The cars at the Heritage Motor Centre in Gaydon have been moved from the Jaguar museum in Browns Lane, Coventry, which closes in two months' time.
The new exhibition, including the XJ220 and E-type, opened in Gaydon earlier.
Spokesman for the Jaguar Heritage collection at Browns Lane, Jonathan Partridge, said talks about its longer term future were continuing.
He said there were plans to have another display of some of its cars at Coventry Transport Museum.
He said: "We've been looking to find a new home for some of the cars to display and we're absolutely delighted we've been able to work with the Heritage Motor Centre."
The Gaydon centre's head of collections, Tim Bryan, said it was "brilliant to have an extra attraction" for the museum.
He added: "To have some of these really iconic cars for people to see is wonderful, especially at the beginning of the summer holidays."