London 2012: Coventry Car parks closed during Olympics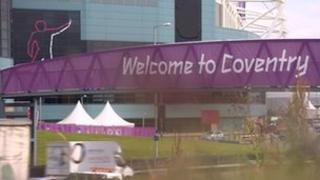 Parking in Coventry city centre is to be limited during the Olympic period.
Lower Ford Street, Grove Street, Gosford Street and Cox Street car parks are to be used by Olympic ticket holders only on match days.
The City of Coventry stadium will be hosting 12 football games from 25 July to 9 August.
Olympic organisers said the ground at Christ the King and St Finbars Football Club could not be used as planned due to water-logged pitches.
Free shuttle buses will operate from Coventry railway station and Pool Meadow bus station.
Coventry City Councillor Lynette Kelly, cabinet member for city development, said: "The organising committee for the Olympics looked at the four car parks they were going to use and decided two of them were so badly water-logged."
She added that the the organisers thought that "churning up the football pitch" was not worth the risk.