G4S Olympics guard charged with theft of mobile phone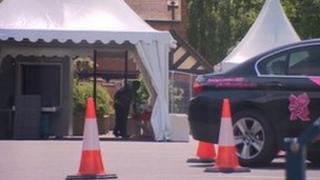 A G4S guard providing security for Olympic footballers at a hotel in Warwickshire has been charged with stealing a colleague's mobile phone.
The 20-year-old man, from Smethwick, West Midlands, was working at Chesford Grange Hotel, near Kenilworth. He has been suspended by G4S.
The suspect was released on police bail and will appear before magistrates in Leamington on Wednesday 8 August.
The footballers are preparing to play at the City of Coventry Stadium.
The venue will host 12 matches during the Games.
The opening women's football match will be held at the stadium on Wednesday, a day before the official opening ceremony.
A G4S spokesperson said: "We can confirm that a member of staff has been arrested and charged with theft.
"The phone has been recovered and the member of staff concerned has been suspended.
"As this is now the subject of a criminal investigation we are unable to comment further."
Warwickshire Police said the phone was reported stolen on Thursday.