Olympic football kicks off at City of Coventry Stadium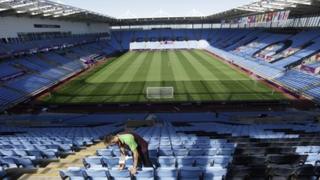 The first Olympic football matches have taken place in Coventry, two days before the Games' official opening ceremony.
More than 18,000 fans watched Japan defeat Canada 2-1 in the first game in the women's tournament at the City of Coventry Stadium.
The second match saw Sweden's women beat South Africa 4-1.
The venue will host 12 games over the next two weeks, including the women's bronze medal match.
Team GB took part in the first game of the day at Cardiff's Millennium Stadium, beating New Zealand 1-0.
Coventry City Council said more than 40 different organisations from the world's media had been at the stadium to cover the opening game.
Some fans had been delayed getting to the ground because of train delays between Birmingham and Coventry, but fans told the BBC that there had been no problems catching free shuttlebuses from both the city's bus and railway stations.
West Midlands Police said the first match between Japan and Canada had passed with no incidents.
Coventry's 32,000-capacity arena was chosen for the Games two years ago.
The venue, which is the home of League One side Coventry City, is usually known as the Ricoh Arena but has had to be renamed during the Games because Ricoh is not an official Olympic sponsor.
The stadium held a test event in April in which Senegal beat Oman 2-0 to qualify for the men's Olympic football finals for the first time. The game was played in front of 11,611 people.