Stratford-upon-Avon Butterfly Farm rehomes giant beetle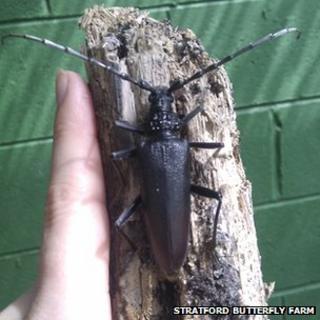 A giant beetle, classified as extinct in the UK, has been rehomed at a butterfly farm in Warwickshire.
The Capricorn Beetle was discovered at Shropshire Building Supplies in Leebotwood and has been placed at Stratford-upon-Avon Butterfly Farm.
The company said it was thought to have arrived in a delivery of oak beams from Germany.
The beetle is believed to have disappeared from the UK in the 1700s but is still found in mainland Europe.
Ian Beaver, from Shropshire Building Supplies, said: "It was found in our yard by some of our guys crawling around some timber.
"They put it in a container and left it on my desk.
"It was a gruesome sight to come back to after lunch, it made me jump a bit."
After researching the beetle on the internet Mr Beaver got in touch with the butterfly farm who told him to send it to them.
"We put it in a sealed box with some wet tissue paper and a bit of banana and punched some air holes in it. I'm just glad it didn't escape during delivery."
The beetle is one of Europe's largest species from the Longhorn family, easily recognised by their very long antennae, and is considered very rare.
Emma Bartholomew, from the butterfly farm, said: "We are delighted to have rehomed this beautiful beetle."