Atherstone-on-Stour fire: Warwickshire County Council to be sentenced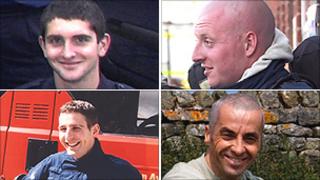 A council that pleaded guilty to a health and safety charge over the deaths of four firefighters will be sentenced at a hearing later this year.
John Averis, Ashley Stephens, Darren Yates-Badley and Ian Reid died tackling a warehouse blaze in Atherstone-on-Stour, Warwickshire, in November 2007.
Warwickshire County Council admitted at Wolverhampton Crown Court in January to failing to ensure safety at work.
The case will be heard at Stafford Crown Court from 3 December.
It is expected to last up to two weeks.
'Financial penalty'
Three senior fire officers were acquitted of the firefighters' manslaughter following a £4.6m investigation.
In a directional hearing at the Royal Courts of Justice, Mr Justice MacDuff, who sat on the trial of the incident commanders, said he was concerned the case had already cost taxpayers "a huge sum of money".
Mr MacDuff said: "For these offences there can only be a financial penalty.
"There is no person to imprison or to send to do community service.
"So there is a financial penalty imposed on the corporation for corporate failings - and people who were not responsible will suffer."
Mr MacDuff added that he wanted all parties involved to reflect upon the costs and length of time already spent on the case when considering what directions they wished him to make for the sentencing hearing.
A spokesman for the council said: "The investigation, over the last five years, has already cost several million pounds of public money.
"We are every bit as concerned, as the judge is, that any further expenditure to the taxpayer is kept to a minimum and we are doing our best to avoid any additional costs to the public purse."
The bodies of Mr Stephens, 20, Mr Averis, 27, and Mr Yates-Badley, 24, were found in the burnt factory.
Mr Reid, 44, died later in hospital.