Giant puppet of Lady Godiva 'awakes' for London 2012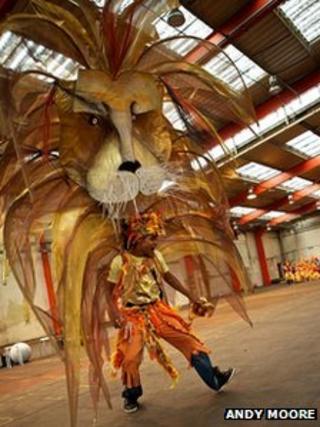 A huge puppet version of Lady Godiva is to begin its journey from Coventry to London as part of the cultural celebrations for the Olympics.
The 20ft (6m) high figure will "awake" from a chamber in University Square in a celebration featuring more than 2,000 performers on Saturday night.
The puppet is being carried to London on a purpose build 50-seater bike.
Funded by the Arts Council, the Godiva Awakes project will represent the West Midlands region at the 2012 Games.
Another 11 arts projects are representing Northern Ireland, Scotland, Wales and England's other regions.
Lady Godiva famously rode naked on horseback through Coventry in protest against high taxes, but the puppet will be clothed.
Its coat has been designed by artists from across the region, led by fashion designer Zandra Rhodes.
The puppet is activated by four performers with Lady Godiva's head and eye movements being radio controlled.
'Spectacular' event
A team of 100 cyclists will power the bike, called the Cyclopedia, in shifts on the week-long journey to London.
They were chosen through a public ballot and from cycling clubs across the region.
The puppet will visit Rugby, Northampton, Milton Keynes, Luton, Hatfield and Waltham Abbey, arriving at Waltham Forest on 5 August.
Jane Hytch, director of Imagineer Productions, which has created the puppet, said the awakening event would be "spectacular."
She said: "We hope as many people as possible will be able to see Godiva and help send her on her way as she travels to London."
"A lot of work has gone in to this project and a lot of performers, artists, funders, supporters, creators, designers, crafters and helpers have enabled us to get to this stage."
All of the free tickets for the awakening have been taken, but the event will also be broadcast live on the big screen in Broadgate in Coventry city centre.
Lady Godiva will also appear at the city's carnival on Sunday.