Lady Godiva puppet to start journey from Coventry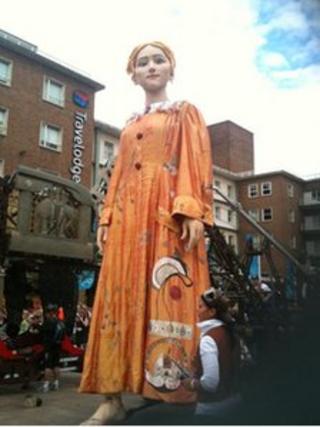 Hundreds of people turned out to see the 6m-high puppet of Lady Godiva journey around Coventry, before being pedalled to London.
The puppet left Coventry Cathedral and made her way to Broadgate where she was dressed in her embroidered coat.
The coat was created by a team of textile and glass artists from across the West Midlands.
The Godiva Awakes event is part of the London 2012 Festival.
On Monday, the Lady Godiva puppet will begin her journey to London to celebrate the 2012 Games, powered by a team of cyclists.
The project represents the arts from the West Midlands region at the 2012 Games.
Another 11 arts projects are representing Northern Ireland, Scotland, Wales and England's other regions.
According to legend, Godiva rode naked on horseback through Coventry in protest against high taxes, but this puppet was clothed.
Visual artist Julia O'Connell designed the coat and appointed a team of artists from the West Midlands to work with her. Zandra Rhodes designed the slip dress used for the "awakening".
The puppet is activated by four performers with Lady Godiva's head and eye movements being radio-controlled.
A team of 100 cyclists will power the bike, called the Cyclopedia, in shifts on the week-long journey to London.
It begins on Monday, when Godiva will travel to Rugby, Warwickshire.
She will then go to Northampton, Milton Keynes, Luton, Hatfield and Waltham Abbey, arriving at Waltham Forest on 5 August.