Leamington and Alcester: A tale of two Portas' Pilot bids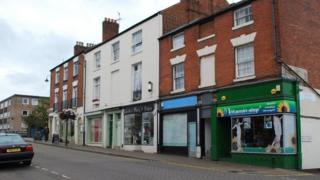 Take a walk down Leamington's Parade and you find a picturesque shopping area that befits the town's full title - Royal Leamington Spa.
High Street in Alcester, a Warwickshire market town less than 20 miles down the road, also boasts attractive buildings.
But residents of both places felt there was a need to give certain parts of their towns a boost.
They applied to become one of 15 areas in England to be awarded £100,000 as part of a government scheme to rejuvenate the high streets last month.
The plan has been spearheaded by retail expert Mary Portas, who has described the traditional high street as being at crisis point.
The latest cash offering comes after 12 towns, dubbed as Portas' Pilots, were given money to regenerate their shopping areas earlier this year.
Leamington was successful with its bid. Alcester was not.
No-go area
"There's an issue with the perception of old town," said Leamington town centre manager David Butler.
"It's got a lot of good things going for it but a lot of people don't use it because they have a negative idea of what's down here."
Old town refers to the area of central Leamington south of the River Leam beyond the end of the Parade.
About one fifth of its shop units are vacant. It is not the prettiest of urban scenes, with a railway line ripping through its heart. Some residents regard it as a no-go area.
These problems helped the Leamington bid stand out from more than 400 other applications, according to Local Government Minister Grant Shapps.
"We're a good example of a town that has prosperous parts and less prosperous parts," added Mr Butler.
"Some of the work that needs to be done is marrying the two."
Jeremy Ireland, project leader for the bid, knows that receiving the Portas money will attract attention but is confident that he can help it become "the place to be".
Mr Ireland said: "That's the best thing about being involved with such a high profile bid - there's nowhere to hide.
"The key elements of the bid are to dramatically improve the look and feel of the area by creating artworks and new lighting and signage. We'll also clean up the area."
Mr Ireland added that other parts of the plan included enticing start-up businesses to become "part of the retail mix" and organising a number of events and programmes "to get people used to coming down".
'Great spirit'
While Leamington's problems are clearly visible, Alcester's are tucked away.
The smaller of the two towns is still bedecked in bunting from the Queen's Diamond Jubilee celebrations, which attracted about 15,000 people.
It has only two shop units vacant on its High Street at present, according to Sam Rath who chairs Alcester Chamber of Trade and Commerce.
Mr Rath said the chamber felt one of the major issues was that the town struggled to attract crowds outside of festivals.
He said: "Having spoken and worked with a number of retailers we've got some evidence that footfall is down on previous years.
"What we're trying to do is encourage more people to come to our town to shop when we're not partying or having festivals."
Mr Rath added that the plan also included the creation of an Alcester apprentice scheme as well as a mobile cinema club to be offered "in less privileged areas".
He is adamant the lack of funding will not deter the chamber from its plans for the town and Mr Shapps has already acknowledged that he does not want towns like Alcester "to lose the incredible momentum" from the bids.
Mr Rath said: "What we have is a great spirit in this town of volunteers.
"Provided we can get them on-side, we've got a great chance of doing good things for the town."