London 2012: Son's pride at Skelton's showjumping gold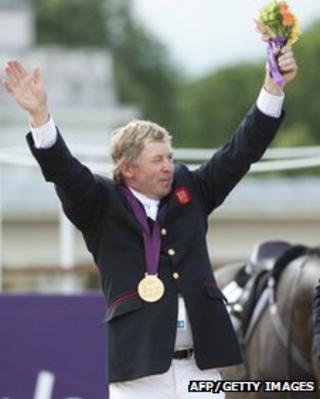 The son of Olympic showjumper Nick Skelton, is celebrating after his father and Team GB won a gold medal in the team showjumping event.
He said: "Great Britain really did outplay their rivals and the four team members all counted on the day and needed each individual to do their job."
It is Britain's first Olympic showjumping medal since 1984 and the first gold since the Helsinki 1952 Games.
Daniel Skelton said: "I think we're all a little bit emotional, it's pent up emotion coming out.
"They were confident that they could win a medal, but given the weight of expectation upon everybody in Team GB's shoulders, they didn't want to go to the public and the press and say we think we can do it… It would put the pressure on even more."
Broken neck recovery
His father, who was born in Bedworth and now lives in Alcester, Warwickshire, is riding in his sixth Olympics at the age of 54.
In the build-up to the Sydney Olympics in 2000, Skelton fell off his horse and broke his neck in two places but continued to compete in 2002.
Skelton's sons Harry and Daniel are involved in National Hunt racing.
Daniel Skelton continued: "My grandfather, bought him a pony aged two, the pony was aged two, they grew up together and he was called Oxo.
"Me and my brother and a few other family friends learnt to ride on him as well.
"We kept him until he died at the age of 38 and that was where it all started."
Mr Skelton said his father had also had a hip replacement, two knee operations and "can't put himself under the same physical pressure that he did 12 or so years ago before his accident."
"This is the absolute pinnacle of showjumping and everybody wants to win and everybody raises their game for the Olympic Games."