Skelton's golden honour in home town of Alcester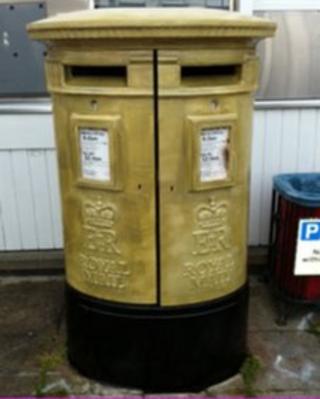 The Olympic achievement of Warwickshire showjumper Nick Skelton has been recognised in Alcester.
A post box has been painted gold in High Street in honour of his showjumping team gold.
Skelton, who was born in Bedworth, now lives near Alcester and competed in the individual jumping finals earlier.
Gerd Kimber, manager of The Mother Huff Cap pub in Great Alne, said he would like to paint the pub gold for his return.
Mayor of Alcester, Councillor Lennox Cumberbatch, said: "I think the post office must be running out of boxes to paint gold across the United Kingdom because we're doing so well.
"It's lovely to know someone local is also part of that process."
Skelton was the last to jump in the final round of the individual competition earlier on Wednesday but his horse, Big Star, knocked over the third-to-last fence, ending any medal hopes.