Coventry City could face court over Ricoh Arena rent bill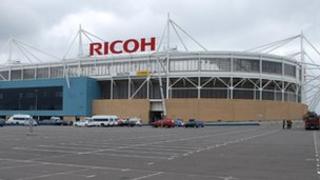 The company that owns the Ricoh Arena has said it could take Coventry City football club to court over an unpaid rent bill of about £500,000.
The club stopped paying its £100,000 a month rent to Arena Coventry Limited (ACL) in April.
It said because of relegation to League One plus an expected reduction in revenues, the current rent is too high.
ACL has said it will take measures to protect its interests which includes "appropriate legal action".
Talks had been under way between the club and ACL to try to re-negotiate the rent since the end of last season.
ACL said it would continue talks with the club "to try to find a sustainable way forward."
Coventry City football club has said it does not want to comment due to the ongoing negotiations which are "commercially sensitive."
The 32,000-capacity venue is owned by Coventry City Council and charity the Alan Higgs Trust, but is run by ACL.
It became the venue for Coventry City's home games at the beginning of the 2005-06 season.
The venue has also hosted Olympic football for the London 2012 games, for which it was re-named the City of Coventry stadium.