Coventry City FC taken to court over Ricoh Arena rent bill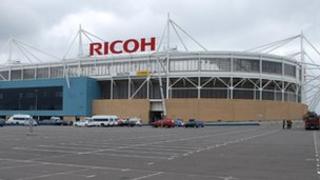 Coventry City Football Club has been given more time to repay in excess of £600,000 in rent and other bills.
The club was taken to the high court in Birmingham after stopping payments of £100,000 a month in rent to operators Arena Coventry Limited (ACL) in April.
Coventry City FC said relegation to League One last season meant the current rent was too high.
The club, which was not represented at the hearing, said it was confident an agreement could be reached.
The court told Coventry City FC to top up a deposit fund set up in 2004 to a minimum of £500,000, to cover ACL's unpaid invoices.
In a statement, club chief executive Tim Fisher said the hearing was part of a legal process and that both parties would continue negotiations over rent.
He said he expected talks to be "concluded before the start of the season".
"Both sides are confident that we will reach an agreement on a rental structure that is fair and reasonable and reflects the interests of both Coventry City Football Club and ACL," he added.
ACL run the Ricoh Arena on behalf of owners Coventry City Council and the Alan Higgs Trust charity.
Lawyers for ACL said they doubted the money would be paid.
The stadium has been home to Coventry City FC since 2005, but following relegation from the Championship earlier this year, the club said it had suffered an expected drop in revenues.
The venue has also recently hosted Olympic football for the London 2012 Games, during which it was re-named the City of Coventry stadium.