Bedworth wins gold postbox to honour Nick Skelton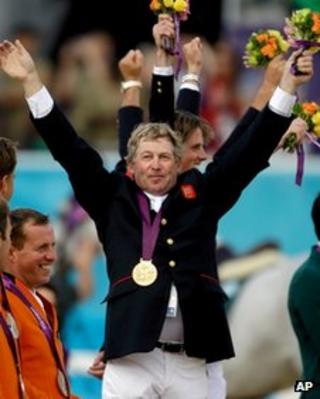 A postbox is to be painted gold in the Warwickshire birthplace of showjumper Nick Skelton.
It follows a campaign by more than 800 people to have his Olympic gold medal achievement recognised in his hometown of Bedworth.
A postbox was painted in High Street, Alcester, where Nick Skelton now lives, after he and Team GB won a gold medal in the team showjumping event.
The mayor of Nuneaton and Bedworth said it would be the box by the Civic Hall.
Councillor John Haynes said: "I think Nick's been getting on to the post office, saying "my friends in Bedworth are being hard done by".
"He's persuaded them, I'm sure, to paint the one outside the Civic Hall gold."
Residents in Norfolk are also asking for a postbox to be painted gold in honour of his horse Big Star, who is stabled in Holt.