Coventry Gateway business park faces CPRE criticism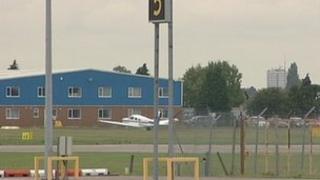 Environmental campaigners have strongly criticised plans to build a business park near Coventry Airport.
The Coventry Gateway development around the airport and nearby Whitley is expected to create up to 14,000 jobs.
Plans include almost five million square feet of industrial and commercial buildings.
The Campaign to Protect Rural England (CPRE) said the proposed development would "tear a huge hole in the green belt" and should be built elsewhere.
The organisation said investment should be used to create jobs in Coventry city centre or target sites previously used for industrial or commercial purposes, such as the former Peugeot plant at Ryton.
Mark Sullivan, from the CPRE, said: "Coventry needs more jobs in the city rather than the neighbouring countryside.
"Coventry Gateway looks more like cloud cuckoo land than sustainable development."
Coventry and Warwickshire Local Enterprise Partnership, which has championed the scheme, said it was now a planning matter and declined to comment further.
A planning application, which is expected to be submitted in the next few weeks, will be considered by both Coventry City Council and Warwick District Council.