Belles of Three Spires perform at Paralympics final day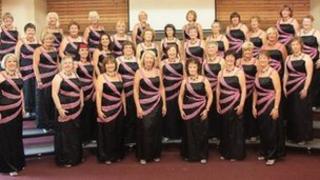 A women's barbershop choir from Coventry has performed at the Olympic Park on the closing day of the Paralympic Games.
The Belles of Three Spires, which has 40 singers aged between 22 and 70, sung at the park's bandstand on Sunday.
They were one of only three acts chosen for the Last Bandstanding event.
They also joined acts around the country simultaneously singing the Coldplay hit Viva La Vida.
Chris Kinsella, who sings in the chorus, has said: "We're absolutely over the moon, we were absolutely stunned when we found out.
"It's all happened so quickly, we sent off a video of our performances and a few days later we found out we'd been chosen."
'Icing on cake'
A panel of music industry experts chose three winners from 1,000 entries.
Conductor Charles Hazlewood, who was part of the panel, said the Belles had been chosen for their "warmth, technical control and silky braiding of harmony".
The other winners were the Abergavenny Borough Band and Dhol2Dhol, a traditional Indian drum ensemble from London.
The Belles sang on the steps of Coventry cathedral when the Olympic torch relay passed through the city in July.
Bass singer Elaine Kendall has said performing at the Olympic Park would be "the icing on the cake".
She said: "We're allowed to roam the park and sing in different places too, so I'm looking forward to seeing the velodrome, the swimming centre and the Olympic Stadium."
The group was formed in Coventry in 1989 by the wives of the Sounds of Three Spires Men's Barbershop Chorus.