Stoneleigh Park £50m development sparks traffic fears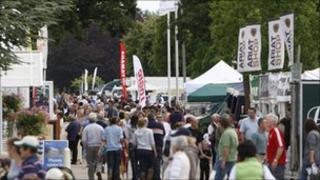 Villagers living near Warwickshire's Stoneleigh Park fear they will be "trapped" by traffic generated by a planned £50m development of the site.
Warwick District Council has granted outline planning permission to owners LaSalle Investment Management to turn the area into a rural science park.
Stoneleigh resident Tony Hanselman is concerned the village already has to deal with commuter rat-runs.
A council spokesman said additional traffic would avoid the village.
The owners plan to build a roundabout at the park's main gate to the south of the site on the B4113.
Access to another gate to the north of the site will be developed with a roundabout added at the junction of the B4115 and Stoneleigh Road.
'Dangerous junction'
Mr Hanselman said about 5,000 vehicles pass through the village at peak times already.
He said: "We're not trying to stand in the way of progress. We're in danger of being trapped in the village.
"If they get a great deal of visitors coming in from the A46, there will be queues going off the A46 on to that slip road and an island isn't going to make any difference."
The Conservative-led authority's deputy chief executive, Bill Hunt, agreed that residents' concerns were valid but felt they were addressing them.
Mr Hunt said: "We're talking about an application that puts a new roundabout at the existing south entrance to improve what is a very dangerous junction there and then opening up this north entrance.
"At the moment anyone visiting Stoneleigh Park from the north, coming off the A46, has to go down the Birmingham Road, through the village, right round the park and come in at the south entrance."
LaSalle Investment Management is still waiting for Warwickshire County Council and the Highways Agency to approve the road changes.