Coventry's Henley Green school legal challenge backdown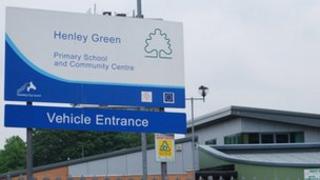 The government will not fight a legal challenge from Coventry City Council against plans to turn a city school into an academy.
The local authority sought a judicial review at the High Court after it was told to begin the process of changing Henley Green Primary School's status.
The Department for Education (DfE) had said Henley Green was under performing.
But the DfE now admits the school's upturn in results indicates "progress" and has asked for an Ofsted inspection.
In July the Labour-led council said Henley Green's year six had exceeded the floor standards for English and Maths by improving by more than 20% on the previous year.
In a statement, the DfE said: "We want the local authority and governing body to build on and sustain the improvement they have made to this school.
"We will take a view once that is completed as to whether further action is needed.
"We have decided, in view of the changed circumstances, not to defend Coventry's legal challenge to our actions.
"We maintain that they were both lawful and justified at the time.
"Henley Green Primary School has made some recent progress and we want to ensure that the governing body is able to build on this and sustain the improvement.
"That's why we have asked Ofsted to carry out an inspection so that we have an independent overview of the school's performance and capacity to improve."