Warwick Castle eagle handlers continue search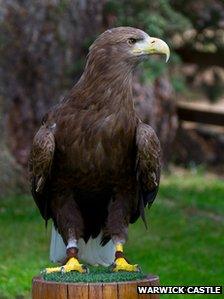 Attempts to recapture an eagle which went missing from Warwick Castle are continuing, despite a "close call".
The white-tailed eagle, named Stanley, flew off during a show at the castle on 6 September.
After spending several days feeding on rabbit carcasses in a field near Leamington rugby club, he was later sighted near Southam.
His trainer Chris O'Donnell said staff managed to get within 20 ft of the bird before he flew away.
Mr O'Donnell said handlers were now uncertain of Stanley's location, although there had been sightings reported in the Kenilworth area.
He said he was confident the bird would be recaptured, particularly when he started to struggle to find food.
The 10-year-old eagle has a wingspan of more than 6ft (1.82m) and is not capable of hunting for himself, Mr O'Donnell said.
Stanley has lived at Warwick Castle for the last eight years.
Related Internet Links
The BBC is not responsible for the content of external sites.