Warwickshire village water firm 'under threat'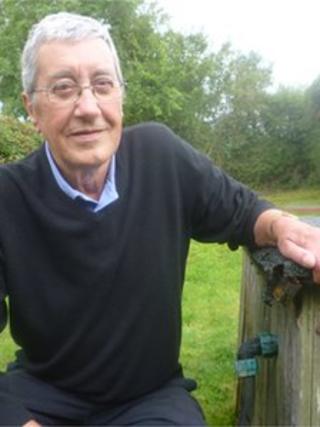 "You were looking after fellow villagers really... It's what village life used to be [like] and unfortunately it's disappearing fast."
Pete Freeman, 67, was one of the handful of volunteers who used a hammer, chisel, shovel and spade for decades to carry out repairs for a small water company based in his picturesque Warwickshire village between Leamington Spa and Banbury.
The historic Fenny Compton Water Company Ltd supplies only 36 homes and three businesses, after being set up by a landowner back in 1886 to help prevent people contracting water-borne diseases such as cholera.
But while in 2012 the water still comes down from a spring in the nearby Avon Dassett hills, the company in Fenny Compton is under threat.
Following an increase in leaks, customers face a £200,000 bill to replace pipes dating back to the 1880s.
A third emergency meeting will be held in the village hall on Tuesday, when customers are due to decide whether it is worth seeking funds to keep the firm open, or whether people should join Severn Trent Water.
'Brought cakes out'
Mr Freeman, a director of the Fenny Compton company, became one of the volunteers repairing bursts after he moved to the village in 1970.
He said: "A little gang used to do it and we used to enjoy doing it, [having] a laugh and a joke.
"They were a good customer if they brought the cakes and the tea out.
"We're trying to maintain the village as villages used to be. Unfortunately a lot of the older people are gone... but The Fenny Compton Water Company is part of that tradition of the village."
Another volunteer, David Walker, who has lived in the village for 47 years, remembered doing one job until late on Christmas Eve otherwise "all the people... wouldn't have had any water for Christmas".
The 70-year-old resident, who was a builder, said: "It needs some new blood in there to help - young people that would have fresh ideas."
The company currently has four directors, all volunteers who live in the village. Annual income is about £10,000 a year and customers have an average bill of about £280.
The water comes to the village - which includes a fire station, a church and a chapel - from the spring and is fed into two tanks half a mile from Fenny Compton.
The company estimated there were about 300 properties in the village. But while the current customer base has been passed down through generations and has been "fairly constant" since the 1970s, newer houses in three parts of the village are not served by the local firm.
In more recent times volunteers have been replaced by contractors who comply with current regulations and the company said the cost of the average repair has risen from about £1,000 to about £3,000 in the last two years.
The company said it also had an £11,500 bill from Severn Trent for topping up its water, which included providing supplies following the village firm's "large leak in a field", although since then Severn Trent was refunding about £8,000 of that.
Following that refund, the company said it estimated it would have about £12,000 in the bank - still way short of the £200,000 needed to replace its mile-long network of pipes.
Landlord of The Merrie Lion pub Nigel Leck said: "We have a duty to keep it open. It's a village resource. It's part of the fabric of the village."
The company secretary, mother-of-one and resident Jill Rankin, 46, said: "It's kept going all this time and through thick and thin, through two [world] wars.
"Our ideal is somebody to help us either access grants that would allow us to replace the pipes or if there's anybody out there that's got a bit of spare cash, a modern-day Victorian philanthropist."
In a statement, Severn Trent Water said it attended a meeting with the Fenny Compton firm on 18 September to offer "help and support".
It added: "We appreciate that there is a great deal of local history and heritage at this water company.
"That's why we will be as helpful as possible in either supporting their move on to our water supply, or in helping them to have some time to find new funding to enable them to remain on their private supply."
Severn Trent Water added it was working with the village firm "to manage their outstanding water bill".