Warwickshire pub team vie for world petanque title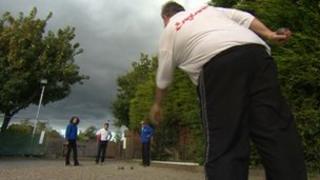 A team of petanque players who are based at a pub in Warwickshire are competing in the world championships in France.
The three men from the Half Crown petanque club, which plays behind the Crown Inn in Stockton, are representing England at the competition in Marseilles.
Jerome Rousseau and Herve Bavazanno, who are originally from France, and Sofiane Lachani, who was born in Algeria, became national champions in 2011.
They got to the quarter finals of the European Cup, which won them qualification to the World Championships.
Team manager Richard Powell said: "It's a bit like the Champions League in football, if you are national champions you get to represent England in the international competitions.
"Although the players aren't from this country, they are all so proud to be playing for England, I can't stress that enough."
'Huge honour'
Mr Rousseau, who moved to Warwickshire about 12 years ago, said he had been playing the sport more commonly known as boules from a young age.
"I know it can sound funny to some people but going back to France and Marseilles playing for England, it's a huge honour really.
"We do have some really good players in this country.
"What can be said is that the English players are very dedicated because it's not always easy to play outside in the cold or in the rain."
The team has already played a number of warm up competitions in France.
It included one in Herve Bavazanno's home town, La Ciotat, near Marseilles, which was where petanque was invented.
Mr Powell said: "We took advantage of Herve's local network and his mum's club organised the competition for us against some strong local sides."
Sideline support
Created in the early 1900s by Frenchman Jules le Noir, petanque is traditionally played by amateurs in Mediterranean countries.
Forty-seven other national teams are competing in the tournament, which dates back to 1959, including the current world champions, France.
A sell-out crowd of 5,000 will watch the England team's opening match against Tahiti on Thursday.
"It's very strong opposition for us first up but if we can beat them that's really going to set the tone and should get us into the top 24, and the next round," said Mr Powell.
"I'll be on the sidelines providing support for the team but next to me will be some of the sports best coaches, including former world champions.
"To be rubbing shoulders with them is the highlight of my sporting career, it can't be beaten."
The Half Crown Petanque Club was formed in 1989, by former members of The Black Horse club, in Marton, and drinkers from The Crown Inn in Stockton.
The landlord of The Crown offered the use of his car park as the home for a new club, and gravel was laid as a playing surface.
The club was given a £5,000 lottery grant in 2000 to put in three purpose-built petanque areas with floodlights.