Eagle from Warwick Castle still missing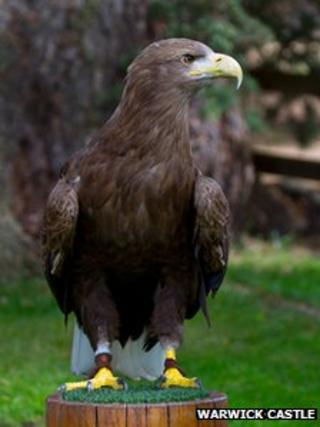 Attempts to recapture a white-tailed eagle which went missing from Warwick Castle are continuing, five weeks after he first escaped.
The white-tailed eagle, named Stanley, flew off from the tourist attraction during a display on 6 September.
Trainer Chris O'Donnell said they had had a sighting of Stanley in a tree in Preston Capes, Northants, on Monday.
Handlers came close to recapturing him early on Tuesday, but the bird flew off again.
Mr O'Donnell said it was the first time they had seen Stanley in three weeks and he remained quietly confident the bird would eventually be caught.
"It really is a case of getting him at the right moment," he added.
The 10-year-old eagle has a wingspan of more than 6ft (1.82m) and has lived at Warwick Castle for the past eight years.