Reunion marks Coventry Cathedral's 50th anniversary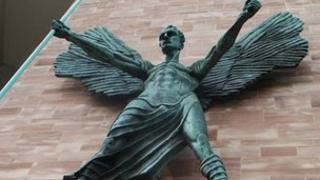 People who have played a part in the history of Coventry Cathedral's new building have attended a reunion.
Organisers said the event was an opportunity for former clergy and staff to meet old friends and learn about current work at the cathedral.
The weekend reunion is among events marking the building's 50th year.
The cathedral, designed by Sir Basil Spence, was built alongside the remains of the previous St Michael's Cathedral which was bombed during World War II.
The ruins of the old building have been preserved as a symbol of peace and reconciliation.
The organising team had said it hoped many people would attend the "wonderful celebration of the last 50 years".
In May about 1,800 people, including the Princess Royal, attended a 50th anniversary service at the cathedral.