Coventry Inland Revenue staff in Francis Maude visit walkout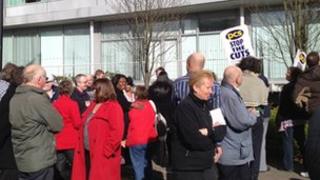 Union members at the Inland Revenue in Coventry have staged a walkout to coincide with a visit at the offices by Cabinet Office Minister Francis Maude.
About 200 people at Sherbourne House demonstrated against cuts and changes to terms, conditions and pensions.
It lasted for 15 minutes, a response to a comment Mr Maude made last year about "token" walkouts with no pay losses.
The Public and Commercial Services Union said it wanted to "visually show" staff disenchantment.
'Big impact'
Ian Hough from the Public and Commercial Services Union said: "In November last year, Francis Maude kindly suggested that instead of strike action, it would be OK for people to do a walkout for 15 minutes.
"So we're following Francis Maude's own advice and showing him we can let him know how we feel in 15 minutes.
"They're also putting through proposals to reduce every single one of our terms and conditions and I think any worker in the country would be out here today to let someone like that know how we feel about it."
Mr Hough said as well as the pension scheme changing, there could also be a longer working week and no more flexi-time.
Zoe Cox, who works as an officer at Sherbourne House, said: "I'm concerned as a single mother of three children they want to take away some of my annual leave, my parental leave, and that would be a big impact for me as a single parent."
A Cabinet Office spokesperson said: "We would like to thank the hard working majority of civil servants who have turned up to work today to deliver essential services.
"We are reforming the Civil Service so that it is faster, more unified, focused on outcomes not process, and ultimately more enjoyable to work for."