Shottery 800 homes plan given go ahead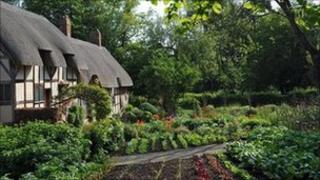 The government has given the go ahead for up to 800 homes to be built near Stratford-upon-Avon.
The plans for the homes, a primary school, a health centre and shops in Shottery were refused by the local council's planning committee last year.
A public local inquiry began in April after developers appealed the decision.
Permission has been granted by the planning inspector who said plans would still need approval from Stratford-on-Avon District Council.
The report that went to the planning committee last year highlighted concerns the development could have on Anne Hathaway's cottage and its immediate surroundings.
Bloor Homes and Hallam Land Management hope to develop the site.