Police commissioner role is 'barmy', says city council leader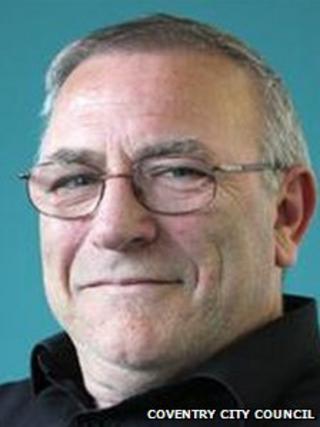 The role of police and crime commissioners (PCC) is a "barmy idea", Coventry's council leader has said.
The PCCs will be tasked with scrutinising their force and holding chief constables to account.
But John Mutton told the BBC the new system would lead to chief constables having more power.
He said: "It's barmy. I don't believe one person can have sufficient hours every day to see and understand everything that's going on".
Mr Mutton added: "The police authority has worked well for years, there was accountability of the police to a wide range of people from politicians to independents.
"If they can pull the wool over the eyes of their commissioner it means they're not accountable at all."
Elections for 37 police and crime commissioners in England and four in Wales take place on 15 November.
Mr Mutton is a member of the 12-strong Police and Crime panel in the West Midlands which will scrutinise and support the Police and Crime commissioner (PCC).
'Setting the policy'
The Conservative candidate to become Warwickshire's PCC, Fraser Pithie, said it "was not a barmy idea" to elect PCCs.
He said: "Whoever is chosen at the end of the day is directly elected and is accountable to the people that elect them.
"To suggest that the chief constable would fudge something back to the commissioner is wrong, the point of the role is to hold the chief constable accountable."
James Plaskitt, who is standing as the Labour candidate, said he "strongly disagreed" with Mr Mutton.
He said: "The police commissioner will be setting the overall policy and the chief constable will then be delivering within that framework.
"It's about setting the policy, the budget and giving the police the tools to do the job and let them get on with it.
"I think it's far from the case that chief constables will be able to pull the wool over commissioners eyes."
Independent candidate Ron Ball said he could "understand Mr Mutton's fears."
"I think it all depends on how the commissioner and the chief constable work together and the relationship they set up," he said.
"It's absolutely vital from the outset the commissioner works with lots of other people.
"If he tries to do all the work himself there will be no space to deal with the chief constable."