Russell Joslin death: BBC reporter's funeral held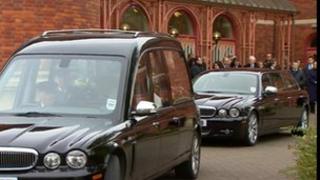 Hundreds of people have attended the funeral of a BBC reporter whose death has led to an inquiry into how managers dealt with his complaints.
Russell Joslin, 50, a reporter for BBC Coventry and Warwickshire, died in hospital on 22 October. He is believed to have killed himself.
A mass was held earlier at Kenilworth's St Francis of Assisi Catholic Church.
Before his death, Mr Joslin had made complaints that he had been sexually harassed by a female colleague.
'Amazing creative talent'
Family, friends and BBC colleagues were among those who attended the funeral service. Mr Joslin was later buried at Kenilworth cemetery.
BBC Coventry and Warwickshire presenter Bob Brolly, who was among those who paid tribute to the reporter during the service, said the church had been "absolutely rammed" .
"Upstairs and everywhere else, it was standing room only - but that's what you would expect for Russell Joslin, a man of his reputation," he said.
"There were people from all over the world - from radio, television, from newspapers, from everywhere.
"It was a fitting farewell to a fabulous person."
Mr Joslin had been a journalist for most of his working life, reporting mainly in the Midlands.
He had worked for the BBC in Coventry and Birmingham and had also worked as a freelance reporter for national newspapers, including the Sun and Daily Mirror.
Colleagues said he had been an "amazing creative talent".
BBC inquiry
Mr Joslin was hit by a bus on 19 October and admitted to Warwick Hospital, and then to nearby St Michael's psychiatric hospital.
He was later readmitted to Warwick Hospital as an emergency patient where he died on 22 October.
A post-mortem examination found he died from asphyxiation.
On Tuesday, the BBC announced it would be appointing someone externally to oversee an inquiry into how the reporter's comments were handled.
Warwickshire Police has said it is looking into Mr Joslin's death as a matter of routine.