George Eliot Hospital death rates 'unacceptably high'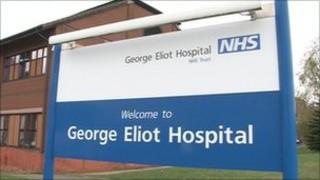 A Warwickshire hospital trust has recorded higher than expected death rates for the third year running, according to NHS research.
Figures showed 20% more people died than would be expected at Nuneaton's George Eliot Hospital between April 2011 and March 2012.
Hospital chief executive Kevin McGee said figures were "unacceptably high."
He said the hospital started an action plan in January after an external review of its death rates last year.
The report was compiled by the research firm Dr Foster which said the George Eliot was one of 12 hospital trusts in England where death rates were higher than expected.
'Protect patients'
In 2011, the hospital had England's highest mortality rates when it recorded 1,024 deaths, 180 more than expected.
Last year, that fell to 997 deaths, 140 more than expected.
In the last five months, hospital mortality rates were 11% above the expected level, the trust said.
"We are obviously pleased with the improvements in mortality rates seen so far this year and it is testament to the efforts of all our staff, but we are still some distance from where we want to be," said Mr McGee.
"We always knew this wasn't going to be a quick fix, this is very much a journey both for the trust and the wider health economy."
Alex Kafetz from Dr Foster, said the company had passed its research on to health watchdog the Care Quality Commission.
He said: "For three years running we've been worried about George Eliot hospital.
"I don't know the reasons why the figures are still so high, but we're calling on the hospital to make sure they're doing everything they can to protect patients."