Atherstone fire: Warwickshire service 'failed to protect staff'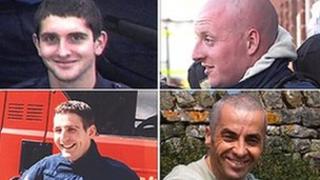 Warwickshire Fire and Rescue failed to protect staff in the "greatest loss" of UK firefighters in a single incident in the last 30 years, a court has heard.
Four firemen died as they tackled a blaze at a vegetable packing plant in Atherstone-on-Stour in November 2007.
Warwickshire County Council pleaded guilty to a health and safety charge in January 2012.
The authority is due to be sentenced at the end of a week-long hearing at Stafford Crown Court.
The prosecution said the fire service had many systemic failings, including the distribution of information about buildings and water supplies and also the training of firefighters.
The bodies of John Averis, 27, Ashley Stephens, 20, and Darren Yates-Badley, 24, were recovered from the burnt warehouse in November 2007.
A fourth firefighter, Ian Reid, 44, later died in hospital.
Three fire officers were acquitted of their manslaughter in May, after a £4.6m investigation.
'Tragic events'
At an earlier hearing at Wolverhampton Crown Court, Warwickshire County Council admitted a limited breach of Health and Safety legislation, but disputed many of the allegations made by the prosecution.
The local authority admitted it should be sentenced for its failings in the "tragic events" of 2007.
Defending, Ben Compton QC said the Atherstone fire marked the "darkest year" for firefighters in the last thirty years and had left families and colleagues filled with "grief and emptiness".
He added that the fire and rescue service accept that it should be held to account on a "fair and realistic basis".
The hearing is expected to last until Friday.